Orange County Child Custody Lawyer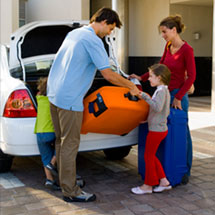 In California, the courts follow the best interests of the children standard when making decisions regarding child custody. Judges try to maintain parenting arrangements similar to what the children were used to during the marriage. At the Orange County Law Offices of Amy M. Montes, our legal team takes a holistic approach to divorce and other family law matters, mindful of the need to aggressively protect our clients' rights while pursuing balanced resolutions.
Our Orange County child custody attorney, Amy M. Montes, understands the benefits often obtained when both parents can create their own parenting arrangements; however, she also recognizes that certain situations and family dynamics create the need for court intervention.
As a dedicated divorce lawyer, she leverages her sophisticated understanding of courtroom procedures and her dispute resolution experience when handling clients' cases. She evaluates every detail to design a course of action tailored to your unique needs.
Irvine Child Custody Attorney
The courts place substantial emphasis on each parent's situation when determining child custody arrangements. The courts don't automatically give custody to mothers, nor do judges base their decisions on a parent's age, sex or economics. Every custody arrangement is dealt with on a case-by-case basis.
Judges typically follow the status quo of what the children experienced during the marriage and review many factors, including the children's ages, extracurricular activities and each parent's work schedule. Whether you create your own parenting agreement or the court establishes one, it is important to understand the following examples of custody:
Physical Custody. Physical custody basically outlines which parent the child will live with as determined by either a parenting agreement or court arrangement. One parent may receive physical custody, while the other receives visitation rights.
Legal Custody. Legal custody authorizes one or both parents to make decisions about children's religion, education and health care.
Sole Custody. In certain situations, a judge may give one parent complete legal and/or physical custody. Domestic violence, substance abuse and other situations may contribute to sole custody decisions.
Joint Legal and Physical Custody. When both parties demonstrate they are willing and able to co-parent, the court typically provides joint custody arrangements.
Our legal practice includes grandparent rights, helping grandparents obtain visitation. Please call us to discuss your situation.
Reunification Counseling
When parents have not been involved with their children for extended periods of time, they can still pursue visitation through reunification counseling. This legal avenue can help parents regain not only parental relationships, but also parental rights.
Free Initial Child Custody Consultation
We invite you to call our Irvine child custody attorney today at 714-731-8600 to arrange a free consultation with our lawyer to discuss your custody issue. Or you may send us an e-mail. Se habla español. Telephones are answered 24 hours a day.