Orange County Divorce Lawyer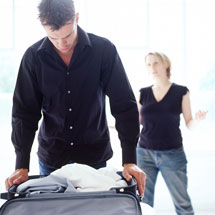 At the  Law Offices of Amy M. Montes, our legal team provides comprehensive divorce and legal separation representation for individuals throughout Orange County. California places a six-month residency requirement on filing for divorce.
Our Orange County divorce lawyer, Amy M. Montes, understands how legal separation can provide an immediate solution, enabling you to obtain a divorce once you've reached your residency requirement. Legal separation does not end your marriage; it simply outlines how you would address property, custody and other issues in the event of a divorce.
We understand the serious emotional and financial hardships often associated with divorce. Contested divorces can be stressful and intimidating for children. We strive to guide our clients through the legal system. We follow a holistic approach to help you discover a new beginning, as well as peace of mind.
Irvine Divorce Attorney
At the Law Offices of Amy M. Montes, our Irvine divorce attorney provide extensive representation tailored to each client's unique situation. Our divorce practice includes: Custody and visitation
Additionally, attorney Montes is available to review prenuptial and postnuptial agreements and provide guidance based on your goals.
Our holistic approach to family law matters enables us to evaluate your situation thoroughly to determine the best course of action based on your goals and needs. We realize the benefits gained when both parties can collaborate to create viable marital agreements. However, we also recognize that certain situations, such as custody issues, require immediate litigation or trial. Whether you are going through a contested or uncontested divorce, our law firm has the experience and resources to help you achieve your goals.
Thorough Pre-planning
Whether you are seeking a divorce or legal separation, we believe you need to be aware of your financial situation before making decisions about your property, child support or spousal support. Thorough pre-planning can also help you understand every fact and possible outcome to your case. We recommend that you start gathering and reviewing as much information as possible, including:
Bank statements
Stock and brokerage forms
Employment pay stubs
IRA and 401(k) statements
Free Initial Consultation
We invite you to call our law firm today at 714-731-8600 to arrange a free consultation with our lawyer to discuss your family law issue. Or you may send us an e-mail. Se habla español. Telephones are answered 24 hours a day.